About the Trainer
Mary Smallwood is owner/head trainer of Keystone Dog Training. She solidified a life's experience of working with dogs by completing formal training at the National K-9 School for Dog Trainers in Columbus Ohio. Graduation from the program earned Mary recognition as a Certified Professional Trainer. This trainer knows that learning is a life long process. To quench her thirst for different techniques and new skills, she is sure to be in attendance with world renowned obedience instructors. Mary is proud to have participated in Martin Deeley's Trainer's Workshop, presented through his International School for Dog Trainers out of Montverde, FL. Hands on work with advanced training tools increased her proficiency in working with dogs. Mary's experience at the Canine Behavioral Psychology and Remote Collar Trainers Academy afforded her a deeper understanding of the motivators that help dogs learn. It was through the Academy with Behesha Doan of Extreme K-9 that a multifaceted approach to training dogs was clearly illustrated and implemented.
As a result of having studied under many professional dog obedience instructors, Mary has developed a diverse approach to working with dogs and their owners. Methods are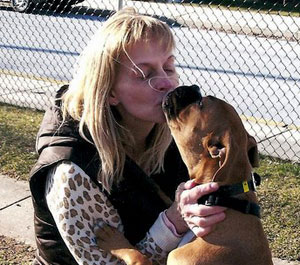 as different as the dogs and people that come to her for help. The programs offered through Keystone Dog Training are designed for all ages of dogs and for a wide array of personality types. Many dogs have been given a second chance at survival by being led through the darkness into clarity. Instructor and dog owner together plan the route that best advances the dog toward positive behaviors. All work is enhanced through the use of positive motivation. Mary takes every opportunity to demonstrate, teach and guide both people and dogs toward their personal goals.
Mary's life has been committed to helping people and caring for dogs. As a clinical social worker she taught people how to work through family crises' and problem solving. After completing her second degree in Health Records Administration she joined the Pennsylvania Department of Health and educated PA residents statewide about tobacco prevention and control.
Mary's combined experiences have given her a unique perspective on the art of communicating with both people and dogs. When dog owners come to Keystone Dog Training looking for support and direction they find an approachable, knowledgeable instructor who will provide constructive guidance. Results speak for themselves. The partnership of owner, dog and instructor sets the stage for growing a healthy and happy family/dog relationship.
· 2015 Recallers with Susan Garrett, Say Yes! Dog Training
· 2014 Annual Educational Conference, International Association of Canine Professionals "Unleashing Balance, Success through Versatility"
· 2013 Certified Trick Dog Instructor, Do More with Your Dog, Kyra Sundance
· 2012 - 2015 Student of Agility through Canine Companions, Bainbridge, PA and Bella Vista Training Center, Lewisberry, PA
· 2009 Pack to Basics Workshop, Advanced Socialization Solutions for Difficult Dogs with Chad Mackin, Cleveland, OH
· 2008 Extreme Canine Remote Collar Training Academy, Behesha H. Doan, Carbondale, IL
· 2006 Balanced Trainers School - Workshop through Applewoods Dog Training, Margot Woods and Coeur d'Lion K-9, Linda Kaim
· 2005 - 2007 Student of Canine Freestyle with Bella Vista Training Center, Wellsville, PA
· 2004 Martin Deeley's International School for Dog Trainers - Remote Collar Training
· 2004 Sit Means Sit Dog Training Workshop with Fred Hassen, New Jersey
· 2004 E-collar Basics Workshop, The Dog Training Company with Susan Engel and Ron Nober, New Jersey
Proud Member
· International Association of Canine Professionals
· National K-9 Dog Trainers Association