Why Keystone?
Keystone Dog Training is the place people reach out to when the frustrations of daily living with a new adoptee or the familiar family dog become more challenging than satisfying. Keystone Dog Training is also the place people contact to learn how to steer their new puppies toward positive interactions with adults and children, at home and in public.
Mary Smallwood works under the premise that successful cohabitation of people and dogs begins with an open minded dog owne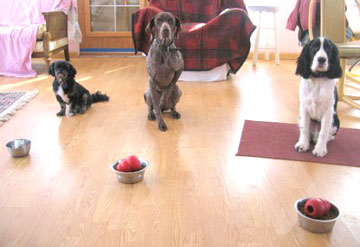 r. Dogs live under high expectations in today's society. The family dog is expected to behave according to the family structure within which it finds itself. The fortunate dog is given guidelines and boundaries from which to act. The same dog is given opportunities to learn how to think, make choices and maintain its valued position in the family. The enduring human/dog relationship is for the informed dog owner who has given the gift of time and direction to their dog.
What does "successful cohabitation of people and dogs" mean? Definitions vary, no doubt. There are some truths however that define this concept. Both owner and dog understand the communications of the other and respond in kind to avert confusion. A mutual understanding of who leads and who follows maintains a sense of stability for all. The dependable dog owner gives the dog a sense of purpose and in return has an eager to please life mate.
Mary Smallwood is prepared to be teacher, motivator and mentor to dogs and their owners alike. People who work through Keystone Dog Training learn to understand the driving force behind their dog's behaviors. With an appreciation for how the dog relates to its world, owners are prepared to help their dog effectively integrate into the human/dog pack called "family". Mary's pledge is that people looking for help will see positive changes in their dog's behavior on the first meeting.